Poet Visit
On Wednesday 12th January we were visited by a poet called Andy Tooze. He read lots of poems and we were able to work with him to write our own class poem: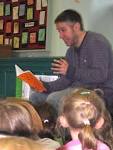 Cake
Lets bake a cake with lovely flowers and candles on the top
First, blow the candles out, then eat it all up
mmmmmmm delicious!!!!
We read our poem out at a whole school assembly at the end of the day.