Vision and Values
The aim of the Aspire Educational Trust is to give children and young people from all backgrounds an outstanding education. In so doing, they will acquire the values, skills, knowledge and understanding to prepare them for life beyond the classroom and subsequently succeed.
To achieve this aim, we will establish outstanding academies in our local communities and beyond. Our ethos will be based upon full inclusion, high expectations, outstanding teaching and learning and a relentless focus on the needs and potential of every child.
Our core values will shape and inform the operation of the Trust.
Together we make a difference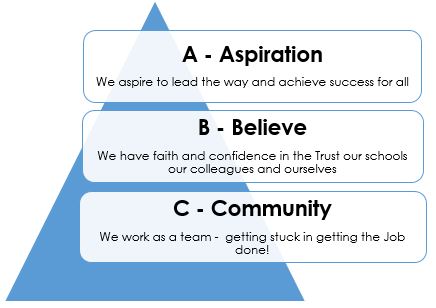 Ethos and mission statement
Each academy will become an outstanding school and work collaboratively with other schools within the Trust for mutual benefit and improvement. Schools will also maintain good working relationships with other local schools, community organisations and the local authority to ensure they fully serve their local communities.